Arch Coal Names 19 Wyoming Classroom Teachers Recipients of Golden Apple Awards
Wright, Wyo. (May 26, 2004) - Arch Coal, Inc. today awarded Golden Apple Achiever certificates to 19 Wyoming classroom teachers, according to Greg Schaefer, the company's vice president for external affairs, western region.
The recipients of the Golden Apple Achiever award are: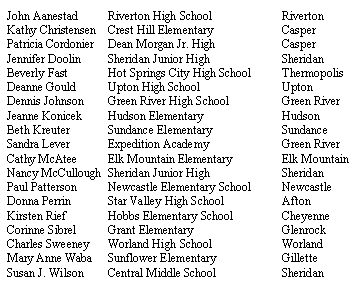 Earlier this month, Arch Coal announced the 10 recipients of its Teacher Achievement Awards.
"These recipients of our Golden Apple Award were scored very highly by our judges," said Schaefer. "All 19 recipients of our Golden Apple Award were within three percentage points of being a Teacher Achievement Award recipient. In fact, the scoring was so close that several of these excellent classroom teachers were within a single percentage point of receiving our top award. I hope these fine teachers are nominated again and that they will again compete for the achievement award."
The program is unique because the general public nominates "great classroom teachers," while a blue ribbon panel - made up of peers and former award recipients - does the judging, Schaefer said. He said next year's nomination forms should be available near the start of the school year.
Arch Coal is one of the nation's largest coal producers and employs approximately 650 people in Wyoming. Arch produces more than 65 million tons of clean-burning, low-sulfur coal annually at its Wyoming operations. The company's Black Thunder operation in Campbell County is one of the nation's largest and most efficient coal mines. Arch Coal is traded on the New York Stock Exchange (NYSE: ACI) and maintains its corporate headquarters in St. Louis, Mo.
Information about the Teacher Achievement Award recipients, as well as the Golden Apple recipients, is posted at:
www.archcoal.com/community/teacherawards.asp
.